Growing up with a passion for animal welfare and with a keen interest in biology, Sally decided at a young age to become a veterinarian. Completing her Bachelor of Veterinary Science degree at the University of Melbourne in December 2000, she went on to work in mixed practice in rural South Australia.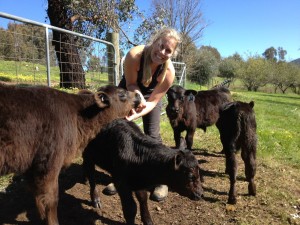 Sally travelled Australia as a mixed practice veterinarian gaining experience in many climates and working with various teams of veterinary staff in different clinics throughout the country. It was during this period in her life that she discovered and fell in love with northeast Victoria. After enjoying the wonders that Australia had to offer while progressing in her career, she left for the United Kingdom and worked in small animal practice for a total of 2 years.
Volunteering has been enriching for Sally and she started volunteer work helping dogs in the Cook Islands in 2005, then colobus and vervet monkeys in Kenya in 2007. Using her veterinary skills to benefit the health of the street dogs of India then became a passion with volunteer work in Delhi and the northern Indian Himalayan region of Ladakh with Vets Beyond Borders, later becoming volunteer project manager of a new Vets Beyond Borders programme in southern India. She spent 2 years in the development and management of the new project known now as Bylakuppe Rabies and Disease Control Programme.  With a concern that there were many animals in her own country that needed help and had potentially treatable concerns that were misunderstood by their caring owners, she chose to devote her energies to learning more of these problems for which so many animals may be abandoned, rehomed or euthanased in the worst case scenarios.
She completed a behaviour medicine course in Luxembourg in 2010 which sparked a strong interest in this veterinary field. Realising that more study would be required, Sally decided that she would return home to Australia to further her education with the goal of becoming a veterinary behaviourist
On returning to Australia she committed to full time work in rural northeast Victoria for 2 years. During that time, she completed a pain management post graduate course and a behaviour medicine postgraduate course through the Centre of Veterinary Education at the University of Sydney Postgraduate Foundation.
She went on to study further, completing membership exams and becoming accepted into the behaviour medicine chapter of the Australian and New Zealand College of Veterinary Scientists. With a dedication to building awareness about the importance of treating distress or difficulty in animals that may be evident to people as abnormal or undesired behaviours and with a wish to promote the human-animal bond, Animal Progress was developed as a consultancy in behaviour medicine.